Hello!
It's a gorgeous day outside! After I get done here I think I will take my furbaby to the dog park.. after taking Benadryl, of course! :)
Here are some more details on the 5" x 5" Art Journal that I altered for the
Stampin' Addicts Summer Mini Blog Hop
this past weekend! It originally started as a "raw" chipboard album that looks like this (forgot to take a picture of mine, so here's a photo from the SU! online store):
The covers are actually 5-1/4" x 5-1/4", and the book has 20 5" x 5" sheets of Very Vanilla cardstock inside - so they stamp beautifully! The Spiral Punch works wonderfully for adding extra pages inside. If you are covering the journal covers with paper, or just adding paper around the binding like I did, the Spiral Punch also helps you create a nice finished look.
Here's my decorated one: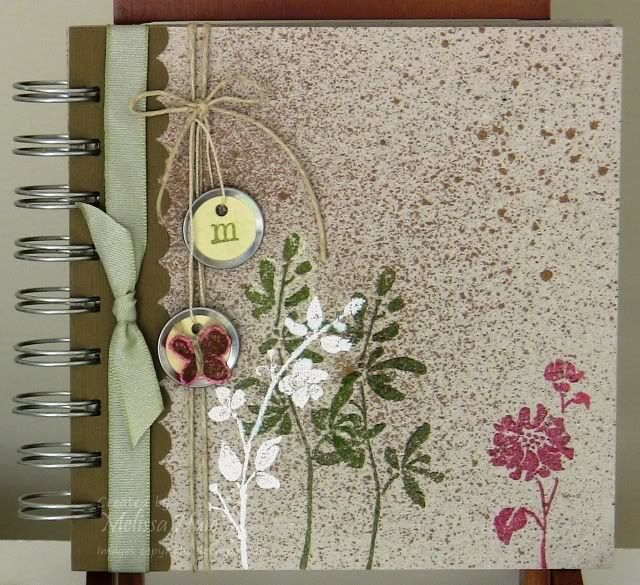 I first spritzed the journal with a bit of Log Cabin Smooch Spritz. This color is gorgeous! It's a sort of copper/bronze shimmer, and just creates a beautiful vintage look. The Smooch Spritz can be a little unpredictable at times (in a good way!), so you'll want to protect your work area with something like our Color Catcher. I then stamped each flower image with Craft ink - Old Olive, Whisper White and Regal Rose - embossing each one with Clear Embossing Powder. I just love the opaque-ness of the Craft inks and how beautifully they layer!
After punching the scalloped border along the Soft Suede textured cardstock, I lined up the paper against the binding, making a mark where the first binding hole would be at the bottom of the journal. Using Paper Snips, snip the mark on the cardstock. You can then slide that slit into the guide of your Spiral Punch to begin your punching, then go back and punch that slit into a spiral as well.
I used a little Mellow Moss taffeta ribbon, then felt to really amp up the botanical garden look, I needed some Hemp Twine! (Don't forget that Mellow Moss is one of the colors retiring in June!) I used the new Mini Vintage Tags to create cute little accents to hang off the Hemp Twine bow. The tags come with thin Vanilla string attached, and I shortened the one attached to the "m" tag. I stamped the butterfly from the Watercolor Trio set with Soft Suede ink, onto Regal Rose cardstock, and attached it with a Mini Glue Dot.
I also stamped the inside of the pages. I will probably go back and add more stamping. The pages inside are the same ultrasmooth Very Vanilla cardstock that stamps like a dream!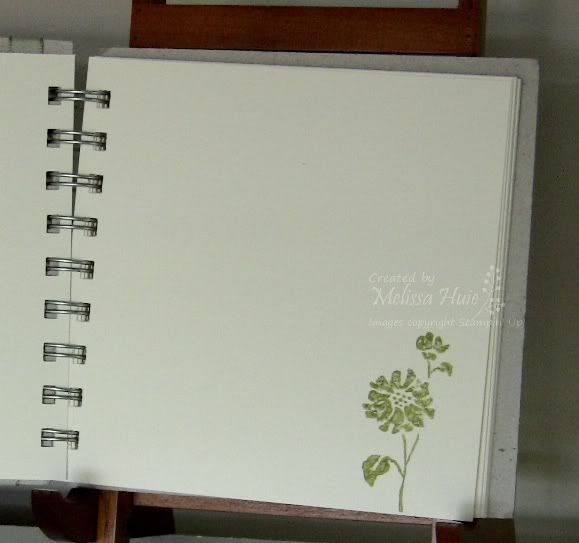 Here I used Old Olive Classic ink to stamp the flower image. I actually stamped it off once onto scratch paper to make it a little lighter.
I love this journal! I can't wait to start using it and also to get more of them!
Have a wonderful day!
Art Journal supplies:
Stamps: Watercolor Trio, Calendar Alphabet & Numbers
Ink: Old Olive, Regal Rose and Whisper White Craft Stampin' Pads, Soft Suede and Old Olive Classic Stampin' Pads
Paper: Soft Suede and Regal Rose cardstock
Accessories/Tools: On Board 5" x 5" Art Journal, Scallop Edge Border and Spiral Punches, Clear and White Stampin' Emboss Powders, Log Cabin Smooch Spritz, Mini Vintage Tags, Mellow Moss taffeta ribbon, Hemp Twine, Linen Thread, Color Catcher